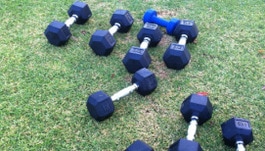 STRENGTH & CONDITIONING

This type of training is predominantly focussed on building your strength and anaerobic endurance. There are many different methods of strength training; whether it's gravity, resistance, equipment or elastic, these essential tools are all a part of Strength & Conditioning class.
In this class a strong focus is given to technique and properly performed movement. Once this has been achieved, then the focus turns to progressive overload. Our Strength & Conditioning training is primarily an anaerobic activity, although I have adapted it to provide the benefits of aerobic exercise through circuit training
---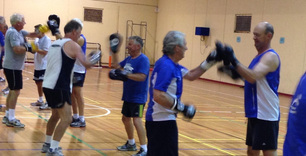 FUNCTIONAL TRAINING

Designed with the over 50's in mind (but everyone's welcome), our functional training sessions are developed to adapt exercises that assist individuals in their daily activities. We use a wide range of training methods ranging from core strength, dynamic & static stretching, strength & conditioning and cardiovascular exercises. Boxing, Strength Training, Pilates & Interval Training are what you'll come to expect on a typical day in one of our Functional group sessions. All sessions are indoors at Camberwell High School over three mornings a week and are one hour in duration. Every Saturday we also offer team activities such as badminton and volleyball. This is a great class to get the body moving and mobile....ready for your day ahead.

---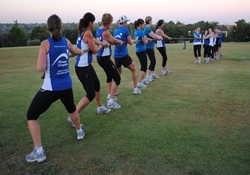 BOOTCAMP

Bootcamp will aim at supercharging your fitness, boosting your metabolism, burning off that extra fat and achieving your individual goals. We've designed this program to train above your lactate threshold through a variety of fitness routines. Why spend time indoors, sweating on that treadmill surrounded by all sorts of interesting fragrances while staring at the world outside when you could be outside getting fit and having fun?

---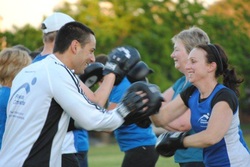 BOXING & INTERVAL TRAINING

We deliver our increasingly popular Boxing & Interval hybrid session 3 times a week. All abilities will benefit from this workout. Boxing & Interval Training is an exercise strategy alternating periods of short intense anaerobic exercise with less-intense recovery periods. Interval training is a form of cardiovascular exercise. These short, intense workouts provide improved athletic capacity and condition, improved glucose metabolism, and improved fat burning. Learn correct boxing technique and punching combinations while working out the whole body and most importantly, having fun!
---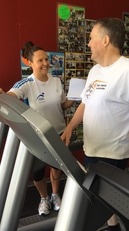 PRIVATE PERSONAL TRAINING or SMALL GROUP FITNESS
We are also available for Corporate Group Fitness, Smaller Private Groups or 1-on-1 Personal Training. You have the freedom of choosing the beautiful outdoors of Grace Park or taking your session indoors to our studio. Just
contact
us to discuss your needs.
---