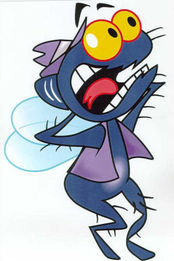 With Summer just around the corner, I've noticed the huge blow flies hanging around the front and back door and sneaking in as soon as the door opens, and it makes my skin crawl. Admittedly, I'm guilty of over doing the can of Mortein to kill a fly the minute it buzzes into my territory however, there's some other strategies you can use to at least control and minimize their presence before needing going to that extreme.
The problem with fly spray and other commercial insecticides is it contains some nasty stuff; which isn't nasty just to flies; but to humans and other creatures in the environment – even the low allergenic varieties.
Some of the chemicals include:
Bioresmethrin
– a suspected endocrine disruptor and highly toxic to fish even in small amounts.
Bioallethrin – a suspected endocrine disruptor and carcinogen.
Butylated Hydroxytoluene – known human immune system toxicant.
Here's some tips to help keep flies away and control their presence (to a degree) around your home – the greener way;
Fly curtain
If you have people coming in and out of your house regularly, especially children, chances are they'll bring flies in with them. A simple fly curtain made of strings of beads will greatly reduce the number that do get in.
Citronella oil and candles
Citronella oil is an essential oil extracted from the different species of Cymbopogon (lemon grass). It's considered a biopesticide and non-toxic. Burning a citronella oil candle or incense sticks will not only repel flies, but mosquitos too. You can also buy special preparations of citronella oil to apply directly to your skin as a fly/mosquito repellent, but it does need to be applied more often than synthetic repellents.
Mint
Crushed mint can be placed in bowls or cloth bags and placed strategically around the home near common entrances.
Eucalyptus oil
Sprinkle a little eucalyptus oil on a scrap of cloth and place near entrances.
Fly repellent plants for the garden
Some species of plants you may be able to grow in your yard depending on your local climate conditions can help discourage flies. These include Lemon balm, Catnip, Mint, Chrysanthemums and Marigolds.
DIY fly traps
Fly traps come in various shapes and sizes, and some are very easy to make –
http://www.getridoffliesguide.com/homemade-fly-traps/
Light
Flies will tend to be attracted to and congregate in dark areas, particularly when it's hot, so allow as much natural light into your home as you can.
"Green" fly sprays
If all else fails, there are some "green" fly sprays available on the market that contain natural pyrethrum and citronella blends. We have used these from time to time and found them to be quite effective on flies; not so good on other insects.. which mightn't be a bad thing actually. However, these usually also contain other chemicals – so they may be the lesser of the evils rather than a truly green product and should also be used sparingly.
I hope some of these tips are helpful to you and your family this summer. It's so important to try and keep the toxins in our every day life to a minimum where we can.
Yours in ZERO flies,
Emma :)